Don't leave your navigation device in the car
You wouldn't leave your phone or your camera in your car, so why leave your navigation device? If you have a portable navigation device remember to take it with you.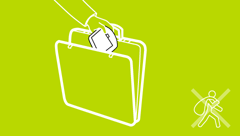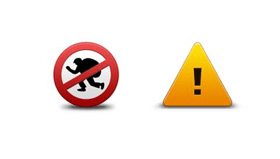 Remove the mount and charger
Store the mount and charger somewhere out of view. Most car break-ins are 'smash and grabs', and when thieves see a mount or a charger they think it's worth checking if the device has been left in the glove compartment. Even a mark on the windscreen where your device was mounted can raise suspicion.
Keep your view clear
Consider carefully where you place your navigation device in your car. It should not block or interfere with any of the following:
Your view of the road
Any of the controls in your car
Any of your mirrors
The airbag
When your navigation device is in the mount, you should be able to reach the device easily without leaning or stretching. The following diagram shows where you can safely attach your device.

Safety lock enabled
If you get a message Safety lock enabled , the option Show essential menu buttons while driving is selected in the Safety settings . The Safety settings are located in the Settings or Preferences menu.
Safety settings
We recommend using the safety settings to make your driving as safe as possible. These are some of the options included in the safety settings:
Show essential menu buttons while driving
Show safety reminders
Warn when driving faster than allowed
You can also drive more safely by using voice commands to control your navigation device.