Note : These steps are not applicable to GO Discover, GO Expert, GO Camper Max, and GO Exclusive devices.
Your navigation device shows a spinning cogwheel or a spinning wheel and then a device with a red cross on the screen when the TomTom software is not installed correctly.
First, you must reset your navigation device to see if that resolves the issue.
If your device does not start, follow the video or step-by-step instructions below.
Before you start:
Charge your device for at least 2 hours.

Make sure that you are using the latest version of MyDrive Connect.
1. Click the MyDrive Connect icon
(

or

or

) in the Windows notification area or Apple menu bar and then click MyDrive Connect .
2. Connect the USB cable that came with your navigation device to your computer.
Important : Do not connect the USB cable to your navigation device yet.
Tip : You should plug the USB connector directly into a USB port on your computer and not into a USB hub or USB port on a keyboard or monitor. Use ONLY the cable supplied with your device. Other cables may not work. You cannot use the mount to connect your device to your computer.
3. Switch on your navigation device.
4. Press and hold the On/Off button.
Do not release the On/Off button when the device restarts with a drum sound. Instead, keep holding the On/Off button until the device shows a black screen with white text. Only release the On/Off button when you see that screen. This can take 10 seconds or longer.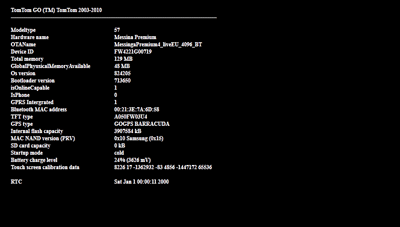 5. While the black screen with white text is displayed;
press and fully release the On/Off button 3 times, quite quickly as in "1-2-3". Getting this timing right is one of the critical steps of this process.
The screen goes black, and then after a few seconds the device reboots into recovery mode. It shows a screen with a spinning cogwheel or wheel depending on which device you have.


If you do not see a spinning cogwheel or wheel, turn off your device and start again from step 6.
6. Quickly connect the USB cable to your navigation device.
You need to connect the cable while the spinning cogwheel or wheel is shown.
7. Do not disconnect your device.
As soon as your device is connected to the computer MyDrive Connect starts restoring the TomTom software on your device.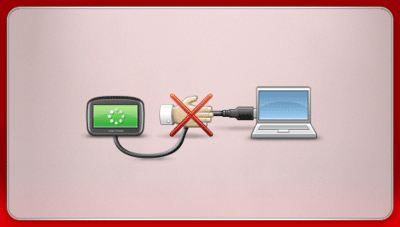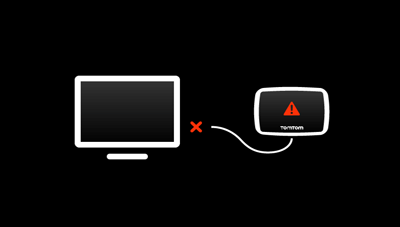 You can check the progress in MyDrive Connect.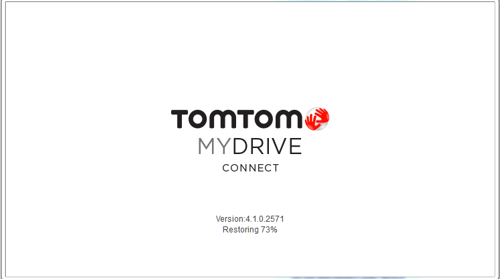 Critical : The recovery process can take between 5 and 30 minutes, depending on your internet connection. Do not disconnect your device from your computer during the recovery process or you might corrupt the device. Even when 100% of the download is done, leave your device connected.
Wait for your navigation device to restart.
8. Once your navigation device has restarted you can disconnect it from the computer.
If the software was restored successfully the device will start normally without displaying a red cross.
Watch the video
This video describes how to reset your navigation device in recovery mode if it's displaying a cross or it's not responding. This process only applies to devices that use MyDrive Connect. A recovery mode helps you restore the software that is installed in your navigation device by connecting to the MyDrive Connect application.