Congratulations on your new TomTom GO Camper! This article will take you through the steps to set up your new device and get you moving.

You will learn how to set up your Wi-Fi connection to check for software and map updates and get connected to TomTom services. You will see how to show Camper POIs. You can also find your user manual at the bottom.
1
Getting to know your GO Camper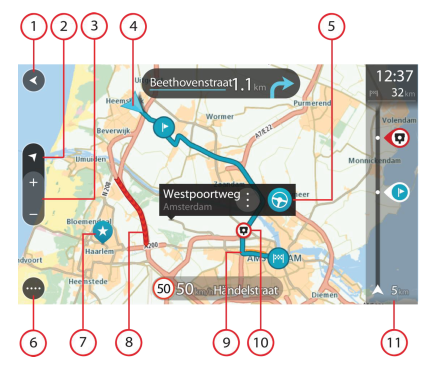 Back Button
Switch view button.
Zoom buttons.
Current location.
Selected locations.
Main Menu button.
Map symbols.
Traffic Information.
Your route.
Speed cameras on your route.
Route bar.
2
Setting a destination
Open the main menu.
Tap Search and enter an address, the name of a place or its type, for example, Restaurant.

Address and city matches appear on the left, while places and points of interest appear on the right.
Tap on a search result to select it.
Tap on the Drive button to plan a route.
3
Saving your favourites
Tap a map symbol or press and hold on the map to select a location.
Tap the pop-up menu button.
Tap Add to My Places and give the place a name.

All of your saved locations are shown as markers on the map. This allows you to quickly navigate using the map. See your favourite places on your phone or computer with MyDrive .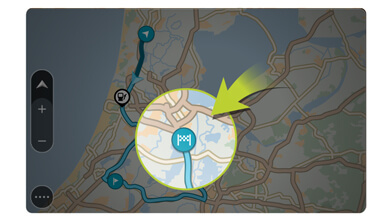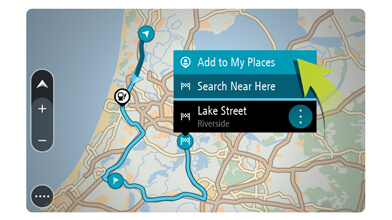 4
Connecting your phone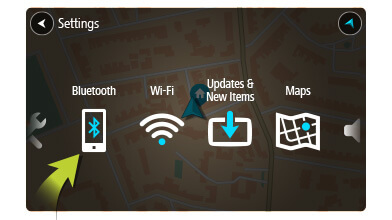 Connect your phone to get accurate traffic information and other TomTom Services*.  You can also connect for hands-free calls and smartphone messages.
To set up the connection to your phone, open the main menu. Tap Settings , then tap Bluetooth® . Tap Add Phone .
Install the TomTom MyDrive app on your phone. Follow the steps in the app to connect your devices and complete the setup. Remember to open the MyDrive app and switch on Bluetooth® whenever you want your devices to connect.
Learn more about connecting your phone.


*Smartphone Connected devices only. All other devices receive services via the built-in SIM.
5
Easy updating using Wi-Fi®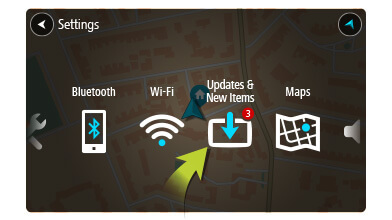 Use Wi-Fi® to get the latest features, map updates, and
QuickGPSfix
for your TomTom GO. No computer needed!
To get updates, open the main menu. Tap
Settings
, then tap
Updates & New Items
. Follow the prompts to set up an internet connection and get the updates.
Learn more
about updating your device.
6
Camper/Caravan-specific routing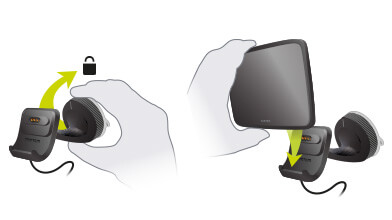 GO Camper offers customised routes for your camper or caravan's dimensions, weight and maximum speed. When you select your vehicle type, the following details for your vehicle are shown:
Dimensions (Length/Width/Height)
Weights (Gross/Axle)
Max. speed
For vehicle types Camper and Caravan, pre-set dimensions, weights and maximum speed are shown. To change a setting, select it and enter the correct value for your vehicle.
7
Camping-related POIs
TomTom GO Camper comes with pre-installed camping-related places of interest (POIs).
To switch them on select Appearance in the Settings menu. Then select Show POI lists on map. You can choose camping POIs from ADAC, ANWB or NKC.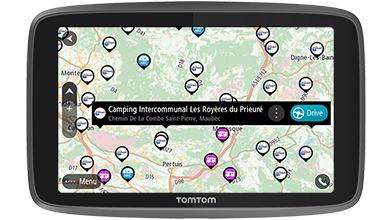 8
TomTom Road Trips
Discover the world's most epic driving routes from TomTom's route sharing community. Personalise your journey and share it with friends via MyDrive. Then start your adventure up mountains, along coastal roads, into forests and beyond with your trusty sat nav guide.
Learn more.