When a map installation gets interrupted or something goes wrong when the files are being transferred to your navigation device, the map files might be damaged and not readable. If this happens, your device will show the message "No Maps Available" or "No Maps Found" .
Links mentioned in video: Installing MyDrive Connect
Re-downloading your map
In most cases you can solve this in two steps: Removing the old map files, and then re-downloading the map.
1. First, click the tab My Content and scroll down to the section My Maps .

2. If your map is listed as Corrupted here, click the image of them map and then click Uninstall .

3. Once the process is complete (or if the map was not listed as "Corrupted") click the cogwheel icon in the top right of the window to open the Settings. Click the Downloads tab, click the button Empty download folder , and then click Save settings.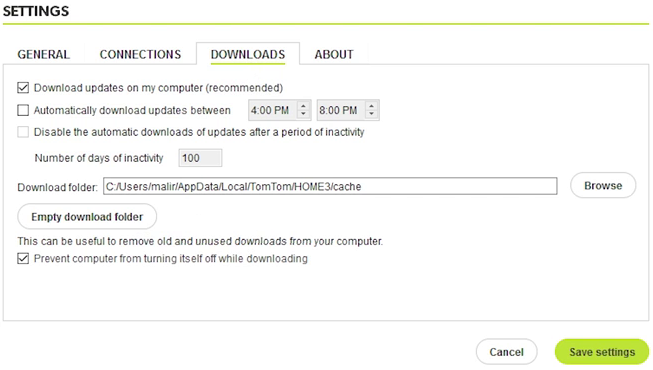 4. Disconnect your device from your computer, and do a soft reset by pressing and holding the power button. Keep the button pressed until you hear the drum-sound, then let go.
If your device stops at a black screen with white text, just turn it off and on again and it will start normally.
Click here to see how to soft reset your device
5. Now, reconnect your device to your computer and restart MyDrive Connect by right-clicking the MyDrive Connect icon again, and then click Quit . Start MyDrive Connect again, click My Content and scroll down to My Maps
Finally, click the map you want to have on your device and select Install . Once the installation is complete, the map should load normally the next time your device starts up.
Related issues
Still not working? Errors during map installations are usually caused by an unstable internet connection. If possible use a wired connection instead of connecting to a Wi-Fi® network, or try through another, faster network.
Also, it's important to make sure you turn off any power saving settings on your computer, as these can interrupt the map installation.
If your device is not listed as " Connected " in MyDrive Connect, please see: Navigation device not connecting to computer (MyDrive Connect)
Finally, if your device does not update with MyDrive Connect, see the corresponding articles for devices that update with TomTom HOME or devices that update over Wi-Fi® .