If you are unable to use LIVE Services on your navigation device, the Traffic bar looks like one of the pictures below:


Exclamation mark



White X



Message
NO SIGNAL </td


The traffic bar
stays grey.
To solve this, perform the following steps. Please test after every step if LIVE Services are active again.
Important: Due to recent changes the LIVE services are assigned directly to your device when purchased. It is no longer necessary to log in with your TomTom account on your Carminat. In fact, LIVE services will only work if you are not logged in to your account.
Do not use the option "MyTomTom account" to log in.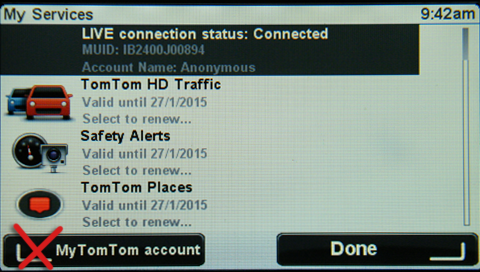 1
Check that your navigation device is connected to TomTom LIVE Services
From the Main Menu select Status & Information > Connection status .

The status should be CONNECTED .

If the status is NOT CONNECTED , check again after completing all troubleshooting steps, and make a note of the connection status in case you need to contact Customer Care.
2
Make sure that you have a valid GPS signal.
For detailed instructions and troubleshooting tips, click this link.
3
Make sure that you're in a country with LIVE Services coverage.
4
Make sure that LIVE services are enabled on your navigation device.
Press MENU Set on the central control or press the Menu button on the navigation control (remote control) to open the Main Menu.
Select LIVE Services .
In the bottom right hand corner you see a button that says Enable or Disable .

If the button says Disable , your LIVE Services are already active and you are sending information to TomTom. If you want to stop using LIVE Services and sharing information with TomTom, select the Disable button. LIVE Services are no longer active and the menu icons are greyed out.
If the button says Enable , your LIVE Services are not currently active. Select the button to switch on LIVE Services. You then have to accept information sharing in order to use LIVE Services.
5
Check that LIVE Services are activated on your navigation device
From the Main Menu tap LIVE Services and then tap My Services in the bottom left corner. Make sure that the Traffic service subscription is valid and activated.
6
Factory reset your device
If you are still not able to access your LIVE Services or you get the message ""An error occurred on the TomTom server. Please try again"", click Continue and Done . Then reset your device to factory settings by following the steps below. Do not log in on your device after a factory reset. Your LIVE services will start automatically.
Note : This removes all personal settings including your Favourites.
Select Change preferences in the Main Menu.
Select Reset factory settings . Confirm that you wish to proceed with the reset.
Select Fully revert to make sure all personal settings are removed, then wait for a valid GPS signal.
If you still experience an issue with the LIVE Services, please try again later. If the issue persists contact TomTom Customer Care .