Freeing up space on your navigation device with MyDrive Connect
If you are trying to install a new item, such as a different map, on your navigation device but there's not enough free space, one of the options MyDrive Connect can give you is to free up space with our Cleanup Wizard. On this page you can find information about the Cleanup Wizard, and some helpful links to more information.
The Cleanup Wizard
If you select "Remove some unused content" in MyDrive Connect you will see the Cleanup Wizard. This view is effectively a planning stage for your content, and you can move items back and forth to see what can fit - no changes will actually take place until you press Continue in the bottom right..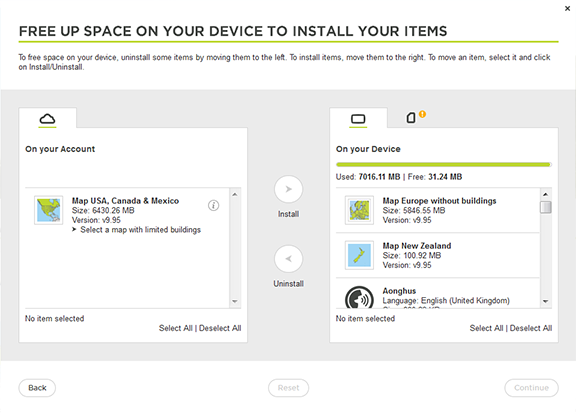 In the left column you see the item you want to install on your device. If you uninstall an item from your device it will move to this column, and you are free to reinstall it again later if you want.
The right column shows you the items which are currently installed on your device, and in the top of this column you can see how much free space is available on the memory you have selected. This value will change as you uninstall items from your device or install new ones.
NOTE: There are two tabs on the right column for switching between the internal memory of your device (

) and the storage of a memory card (

).
You can click to select an item in either column, and the button to install or uninstall it will become highlighted in green. When you click the green arrow button the item will be moved to the opposing column, provided that the change is possible.
When you have selected your items and made the changes you want on your device, click Continue . On the next screen you will see the items that will be uninstalled to the left, and the new items that will be installed on your device to the right. Click Confirm to proceed, or Back if you want to move more items before you apply the changes.
NOTE: You will not be able to continue and apply your changes unless you have at least one map installed on your device's internal memory.
Additional information: