Wearing your fitness tracker
The TomTom Touch Fitness Tracker comes with a built-in heart rate monitor. The monitor measures changes in heart rate by shining light through the skin onto the capillary veins just below the skin and detecting the changing light reflections.
If you experience issues with getting an accurate heart rate reading, please ensure that the strap of your fitness tracker is worn as follows:
Done up tightly, but not so tight that it's uncomfortable.
Placed above the wrist bone.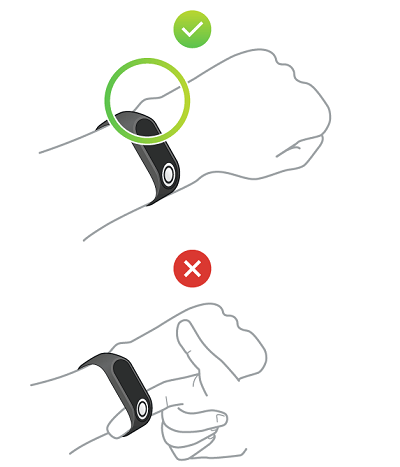 The heart rate monitor works best when you're warmed up.
Cleaning your fitness tracker
It's important to keep your fitness tracker clean, especially when you've been sweating.
To clean the tracker, wipe with a damp cloth and use mild soap to remove oil or dirt.
Do not use hand soap, body soap, dish soap, hand sanitisers, cleaning wipes or household cleaners which could get trapped beneath the band and irritate skin.
Always dry the tracker well before putting it back on. While the fitness tracker is water resistant, wearing a wet band for longer periods of time can cause skin irritation.
Do not expose your fitness tracker to strong chemicals such as solvents, and take care not to scratch or damage the heart rate sensor area when cleaning the module.
If you have eczema, allergies or asthma you may be more likely to experience a skin irritation or allergy from a wearable device. Regardless of whether or not you have one of these conditions, if you start to experience redness or skin irritation on your wrist, stop wearing the tracker. If symptoms persist longer than 2-3 days after you've stopped wearing it, contact a dermatologist.
Note: Make sure that the micro-USB port on your device and your micro-USB cable are clean and completely dry before you charge your fitness tracker.
Allergens
TomTom Touch straps have been tested in accordance with ISO10993-5 & -10 (testing for cytotoxicity, skin irritation and sensitisation) and passed without any issues. The metal components have been tested according to the EU Nickel Directive standard EN1811 for nickel release and no problems were identified.