TomTom MapShare on your navigation device is a unique technology that enables you to add to, update and personalise your maps instantly. If you choose to, you can also share your map corrections with the MapShare community so everyone can benefit.
You can also report map changes to TomTom using the MapShare Reporter in the map section of the TomTom website.
Note : For truck-specific map changes, add a note in the report's comment field to say that the change is only applicable for trucks.
MapShare on a navigation device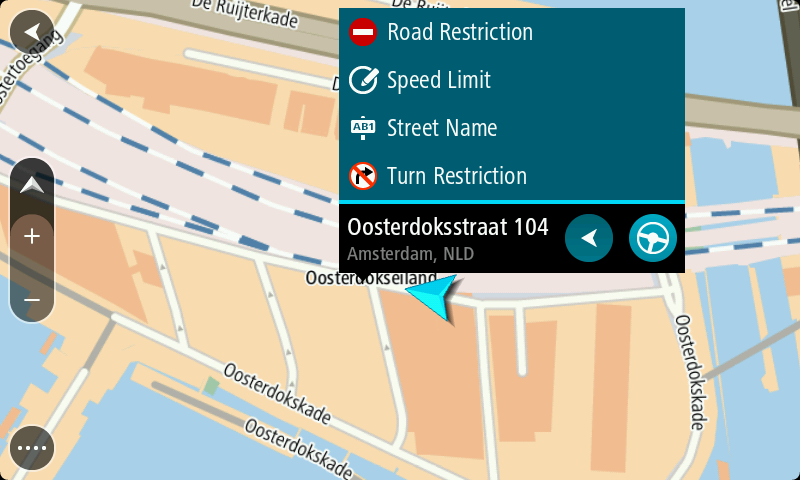 (Un)block street
Allows you to block access for cars from either one or both sides of the street (i.e. if a street has changed to a one way street or is not accessible at all any more).

Reverse traffic direction
Allows you to change the traffic direction of one way streets on your map.

Edit street name
Allows you to edit street names (i.e. if the street name is incorrect or does not yet exist in the map data).

Change turn restrictions *
Allows you to change an incorrect road turn direction.
* Application version 8.00 or higher

Change road speed *
Allows you to change road speed limit.
* Application version 8.00 or higher

Add missing POI
Allows you to add POIs to the preinstalled POI categories (i.e. if you pass a petrol station, hotel, restaurant, etc. which is not yet available on the map).

Edit POI
Allows you to do one of the following to a POI that exists on your map:

Delete the POI (if it no longer exists)
Rename the POI (if the name is incorrect)
Change the POI phone number (if the phone number is incorrect or not yet available in the map data)
Change the POI category (if the POI is in the wrong category)
Move the POI on the map (if it is not positioned correctly)
The Report other error menu provides a number of options for corrections, which do not take effect on your current map, but are reported to the map provider for verification.
Existing street
Allows you to do the following for streets that exist on your map:

Report streets that no longer exis.
Report an incorrect street name
Report wrong or missing house numbers
Report wrong speed limits
Report wrong turns (i.e. if you are not allowed to turn left or right at a specific crossing)
Report wrong street type
Report a toll road
Report streets that are positioned incorrectly
Report mispronounced street names

Missing street
Allows you to add a new street to your map
City
Allows you to report the following:

Missing city
Wrong city name
Alternative city name

Motorway entrance / exit
Allows you to report new and incorrect motorway entrances and exits
Postcode
Allows you to change an incorrect postcode or add a new postcode if it does not yet exist on your map.
Roundabout
Allows you to add or remove roundabouts to / from your map.
For more information about TomTom MapShare, go to What is TomTom MapShare?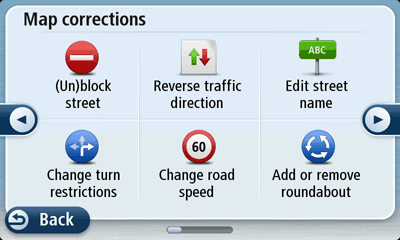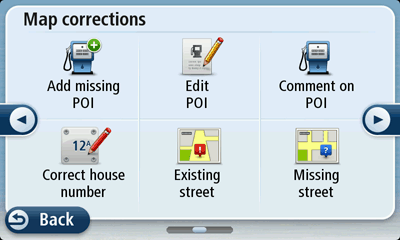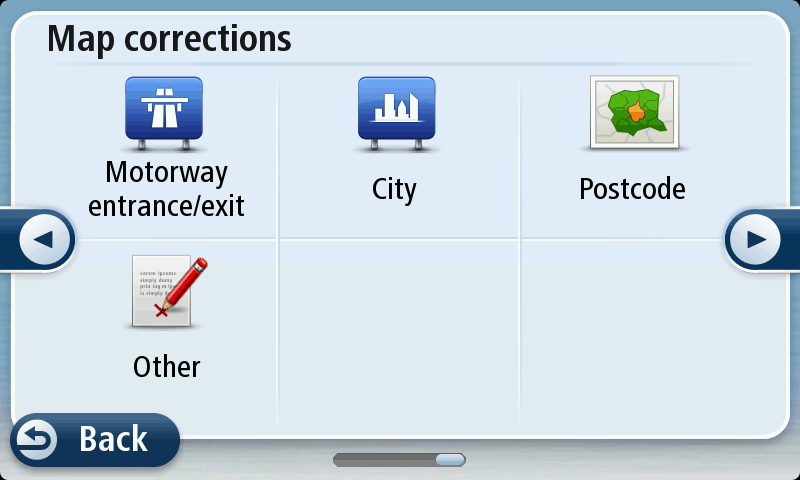 MapShare Reporter
With the TomTom MapShare Reporter you can report the following map changes:
Address – Correct a missing or incorrect address
Street – Add, move, or rename one or more streets
Block or Unblock – Report a street blocked or open
Roundabout – Add or remove a roundabout
Traffic Direction – Report one-way or two-way streets
Turn Restriction – Allow or prohibit turns or U-turns
Places – Report a missing place.
Speed cameras – Add, remove or update a speed camera
Note: We only accept reports for those countries where a speed camera service is legal and TomTom offers a speed camera service.
Speed limit - add or update a speed limit.


You can add a speed limit or update an existing speed limit using the following options:

Select Speed Limit , then Add a speed signboard to indicate the road on the map where a speed limit must be added.

As well as maximum speed and standard information, you can also provide more details in your report, for example type of vehicle or time restrictions. Select Add more details to see the full list of report items.

Select Speed Limit , then Update a speed limit to indicate the road on the map where the speed limit needs to be updated.

As well as maximum speed and standard information, you can also provide more details in your report, for example type of vehicle or time restrictions. Select Add more details to see the full list of report items.

Other – Report a different problem about the map
For more information, go to: