1
Download TomTom Sports Connect and connect your TomTom Runner / Multi-Sport
To connect the watch to your computer, remove the watch module from the strap. Using the USB cable, connect the watch module to your computer.
Download and install TomTom Sports Connect on your computer.
After installation is complete, TomTom Sports Connect opens. Follow the on-screen instructions to get started.
2
Sign up for TomTom Sports and register your TomTom Runner / Multi-Sport
During setup in TomTom Sports Connect, the TomTom Sports website opens so you can create an account or sign in.
On the TomTom Sports website you'll be able to sync and view your activities, stats and progress.
You should connect your watch to your computer regularly to charge it, to download QuickGPSfix information, which helps your watch to find your location quickly, and to get the latest software updates.
3
Get the TomTom Sport mobile app and connect your TomTom Runner / Multi-Sport
4
Learn more about your TomTom Runner / Multi-Sport
Using your watch
Press the button to go up, down, left or right to other screens on your watch.
Press LEFT - opens the STATUS screen.
Press DOWN - opens the SETTINGS menu.
Press RIGHT - opens the ACTIVITIES menu.
Press UP – from the clock screen, moving up doesn't open another screen.
Cover the screen with your palm briefly to turn on the back light.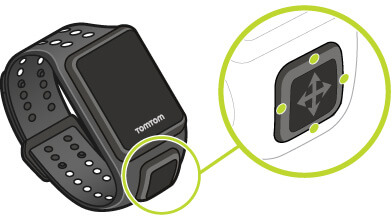 5
Starting an activity
To start an activity on your watch, do the following.
From the clock, press RIGHT.
Select one of the activities, then press RIGHT.
For RUN, CYCLE and FREESTYLE activities, you need a GPS fix. Wait while your watch shows Please wait and the GPS icon flashes in the top left hand corner of the screen. When it's ready to start an activity, your watch shows the message GO and the GPS icon stops flashing. For a quicker GPS fix, make sure QuickGPSfix is up-to-date and avoid moving while waiting.
To pause an activity, press and hold LEFT once. Waiting in this screen for 60 seconds will show you your heart rate recovery (CARDIO watch only). Press and hold LEFT again to completely stop the activity.
6
Export your activities to other websites and file types
If you want to export your activities to other websites or file types, go to:
https://mysports.tomtom.com/app/settings/exporters .
Click the + next to the exporter you wish to add. If you choose a website, you are then asked to log in to that website.