Every time you take a measurement, make sure that you do the following:
Wear the fitness tracker for at least 15 minutes first so that it can warm up.
Wear the fitness tracker tightly, without it being uncomfortable. Avoid placing it on your wrist bone.
Do not touch your arms to the side of your body, and do not touch your wrists or hands to each other as this can cause inaccuracies.
Keep your arms clear from touching other objects such as tables or walls.
Remain still until you see a tick mark on the screen.
The overall trend of measurements will be more accurate if you measure at the same time of day each time. The ideal time to take a measurement is in the morning, after going to the bathroom but before eating, drinking, showering or exercising.
Taking a measurement :
Step-by-step instructions
Swipe to two screens above the clock face of your fitness tracker, where you see a percentage sign.
Gently press the button with the tip of your index finger for about 10 seconds until a tick appears on the screen.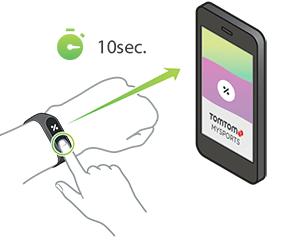 Make sure you cover the entire button with your fingertip and that your finger forms a straight line with the screen of your fitness tracker.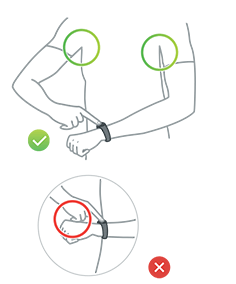 You can now view your body composition reading in the mobile app on the Activities screen. Tap on the body composition numbers to see your trends.
If a cross is displayed instead of a tick, unfortunately the measurement did not work and you  have to try again. It often helps if you put a little water on your wrist under the electrode and on your fingertip. Also make sure your profile information (height, weight, age and gender) is correct in TomTom Sports as this is used to correctly calculate your body composition.
Other things to keep in mind when measuring body composition :
For women, measurements are less accurate if taken during a menstrual period, as this generally affects the fluid balance in your body.
We recommend that you do not use the body composition feature if you have a pacemaker or other surgical implants, or are pregnant.