1
Download TomTom Sports Connect and connect your TomTom Golfer 2
To connect the watch to your computer, remove the watch module from the strap. Using the USB cable, connect the watch module to your computer.
Download and install TomTom Sports Connect on your computer.
After installation is complete, TomTom Sports Connect opens. Follow the on-screen instructions to get started.
2
Sign up for TomTom Sports and register your TomTom Golfer 2
During setup in TomTom Sports Connect, the TomTom Sports website opens so you can create an account or sign in.
You should connect your watch to your computer regularly to charge it, get golf course updates, to download QuickGPSfix information which helps your watch to find your location quickly, and to get the latest software updates.
Note : Recent golf courses and the ones close to you are automatically updated whenever you connect to the TomTom Sports app.
3
Get the TomTom Sports app and connect your TomTom Golfer 2
4
Learn more about your TomTom Golfer 2
Using your watch
Press the button to go up, down, left or right to other screens on your watch.
Press DOWN – to open the settings menu.
Press RIGHT – to start a golf round.
Press UP – to see scorecards of your previous rounds.
Press LEFT – from the clock screen, pressing left will not open another menu.
Cover the screen with your palm briefly to turn on the back light.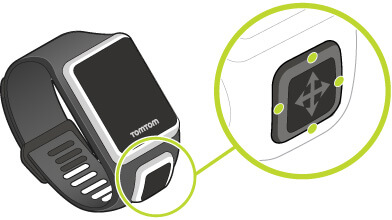 5
Record your round of Golf
From the clock screen, press RIGHT, wait for GPS to locate the nearest golf courses and select the one you want to play by pressing UP or DOWN. Press RIGHT to begin your round and you see the distances to the front, middle and back of the first green. The distances are automatically updated as you walk. Press RIGHT again to see the distances to the upcoming hazards along the fairway.
6
Automatic Shot Detection
Your watch includes an automatic shot detection feature. It detects all your swings but records only one stroke on your scorecard on each location where you take swings. This means that you can take as many practice swings as you like. If you need to add more strokes, for example a penalty shot or a putt, you can do this by covering the screen with your palm.
Whenever a stroke is added to your scorecard your watch vibrates and a notification of +1 stroke is shown on the screen. When you palm the screen on the green the screen shows +1 putt and records a putt on your scorecard. If you would like to cancel the addition of a shot, press left when +1 stroke is shown on screen.
Note : All putts need to be recorded manually.
7
Post-game analysis with the mobile app
With your TomTom Sports App you can review your rounds shot by shot in order to build on your strengths and improve your weaknesses. Just open the app on your smartphone to see your stats and analyse your rounds. In addition to that, your Ultimate Round combines your best holes to reveal your best potential round so you can see how low your handicap would be if everything went perfectly.