Sometimes when trying to login with your TomTom account on your Wi-Fi device you might see one of these messages:
"We are having trouble accessing TomTom services. Please try again later."
"Oops Something went wrong. Please try again."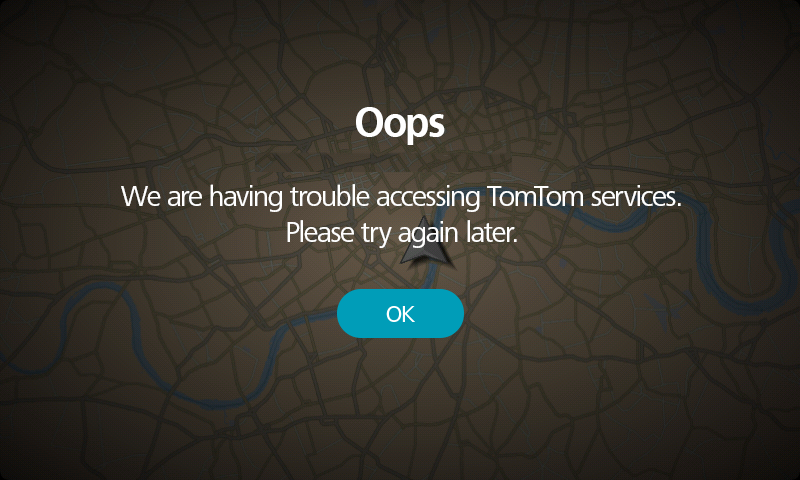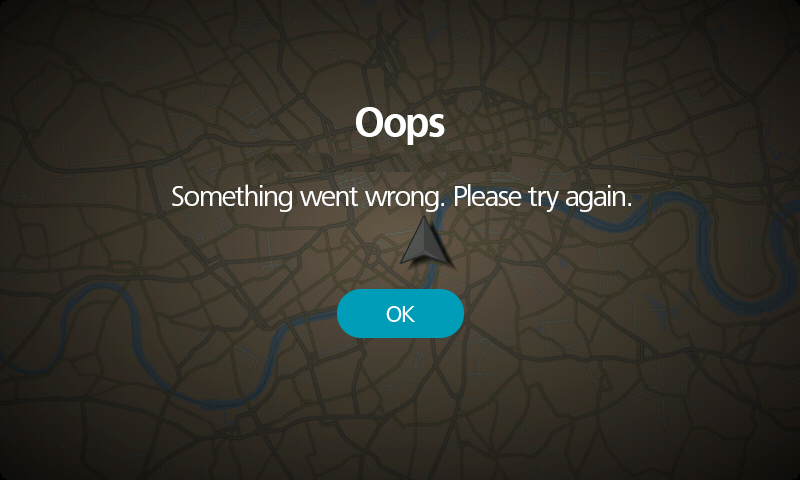 If you are getting the error message while you are trying to update your device or log in to MyDrive, you need to check that your device has a proper connection.If you get this error message the first time you're using your new Wi-Fi device, it can be resolved with a reset. See: HOW DO I PERFORM A FACTORY RESET ON MY DEVICE?
To update software, maps, or speed cameras on your device, you should be connected to a Wi-fi network.
To connect to a Wi-Fi network, switch on your device and do the following:
Select the Main Menu button .
Scroll to the right of the screen and select Settings , then Wi-Fi .
Enter the login information for the Wi-Fi network and select Connect .
Alternatively, you can use your computer's internet connection. In this case you need to have MyDrive Connect installed on your computer. See INSTALLING MYDRIVE CONNECT for more information.
Once your device is recognized by MyDrive Connect, the message " Update your GO the easy way " is shown and you can start the updates through the menu on your device.

Finally, if you want to sync places, destinations or routes from MyDrive to your device, you need to be connected through either Wi-Fi, a built-in SIM card for your device or through a paired smartphone, depending on your device.
Note: To check the type and status of your connection, open the Main Menu, scroll to the right of the screen and select the question mark

, and About . Scroll down to see your connection status.